September 17, 2021
Michael Ambrose
In 2020, the residential building sector saw unprecedented growth in the construction of new homes, bolstered by low interest loans and stimulus packages. The number of rooftop photovoltaic (PV) panels installed on Australian homes was also record-breaking. We look at some of the numbers.
Australia often punches above its weight on the world stage, and so it is with solar.
We lead the world in watts per capita for rooftop PV solar, with more than 2.68 million rooftop solar power systems installed in Australia in total (as of 31 December 2020). That means one in four homes have solar panels on their roof!
While 2020 was tough on many fronts, there is one silver (silicon) lining. Last year saw a boom in the installation of rooftop PV solar panels for the generation of electricity in Australia.
A record number of new houses
All new homes in Australia have a requirement to meet minimum energy efficiency standards. If you build a new home, you need to get an energy efficiency rating certificate as part of the building approval process.
Energy rating software models the expected efficiency of your home and gives it a star rating out of 10. Six stars is the minimum rating a new home needs to achieve.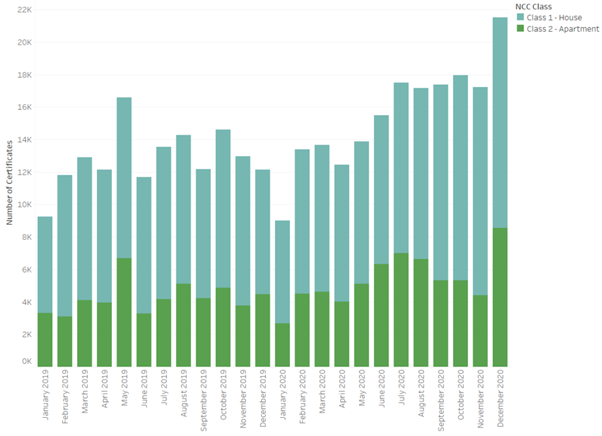 CSIRO's Australian Housing Data portal collects information from these energy rating certificates. Recent data shows a record-breaking number of certificates being issued in December 2020. The month having the greatest number ever issued, at just over 21,500 certificates (well above the long-term monthly average of 14,000).Data from the Housing Industry of Australia also shows a boom in new homes sales: sales in the December 2020 quarter (December 2020 to the start of February 2021) were 48.7 percent higher than the September 2020 quarter (September 2020 to the start of December 2020). This is also a remarkable 99.5% higher than the same time in 2019. Monthly energy rating certificates for houses and apartments.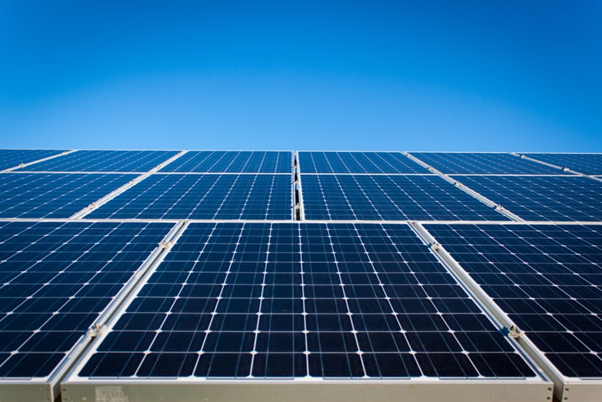 A record number of solar PV installation
New housing starts were not the only sector that saw record growth.

The installation of photovoltaic (PV) solar panels for the generation of electricity also boomed.

Data from the Clean Energy Regulator (CER) shows that in 2020 over 362,000 rooftop solar PV installations were issued with small-scale renewable energy scheme certificates (STCs) under the Small-scale Renewable Energy Scheme. This is an increase of 26 per cent from 2019.
The increase in both new house construction and PV installs raised the question: are these trends happening together? When people build their new home, do they also install a PV system?
We combined our energy efficiency certificate data for new detached dwellings (Class 1) with the PV install data from 2016 to 2020 to see if there was a relationship. (2016 is when the energy efficiency certificate data collection started.)
And we found that in some jurisdictions there was a correlation between where new houses are being built and where PV systems are being installed. Correlations were found in Victoria, Western Australia, Tasmania and Queensland.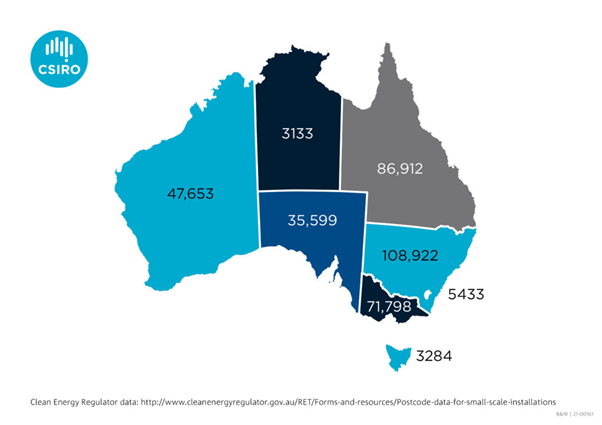 In 2020, Australia installed its highest ever number of rooftop solar photovoltaic systems, with more than 362,000 systems installed around the country.
Which states and territories are leading the charge?
Since 2016, Victorian postcodes lead the country in the number of energy rating certificates issued for detached dwellings with eight out of the top 10 postcodes being Victorian, including the top two.
Victorian postcodes also lead with PV installs, again having the top two, although NSW has the most installs in total followed by Queensland and then Victoria. There are five Victorian postcodes that dominate that state's profile:
3029: Hoppers Crossing, Tarneit and Truganina
3977: Cranbourne
3064: Craigieburn, Donnybrook, Mickleham and Roxburgh Park
3030: Werribee and Point Cook
3978: Cardinia, Clyde and Clyde North
All of these postcodes are within the new growth corridors of Melbourne's outer west, north and south east.
Indeed, for the 2016 to 2020 timeframe, 3029 is the leading postcode in Australia for PV installs and a very close second for most energy rating certificates issued, just behind postcode 3064.
This interactive plot allows you to search by state or territory, and postcode. You can see how many solar PV installations and new homes ('certificate', which is energy efficiency rating certificates) for your postcode.
What is causing the uptick in solar PV installation?
The correlation appears at least partially driven by the building industry itself.
Many builders offer packages that include a PV system as part of the build. Some even including PV and battery systems as a standard inclusion. Incentives like these, coupled with rebates from State and Federal governments, make it an attractive option for many people.
According to the International Energy Agency, Australia now leads the world in installed PV capacity on a per capita basis. At 600 W/person this is almost three times the installed capacity of the US. That is almost eight times the worldwide average of 83 W/person.
CER data shows that more than 2.66 million rooftop solar power systems have been installed in Australia, as of 31 December 2020; that means more than 21 per cent of homes in Australian now have rooftop solar PV.
Globally, many countries are working towards net zero emissions by 2050. In the housing and energy efficiency space, in February 2019 Australian Energy Ministers agreed on the Trajectory for Low Energy Buildings. The document is a national plan that sets a path towards zero energy (and carbon) ready buildings for Australia.
The plan's proposals include increasing the minimum energy efficiency requirements for new dwellings from six stars to seven stars. Ensuring homes are 'ready' to accommodate onsite renewables, like PV systems.
Across Australia, many households are already achieving net zero emissions; they generate more energy than they consume over a year.
With the cost of solar PV systems continuing to drop and Australian's continuing desire to live in detached homes, the sight of new homes with PV systems on their roofs will likely become an increasingly common one. Net zero-emission homes may be the norm well before 2050.